We can design and build custom temperature control assemblies and can design a controller for your heated hose.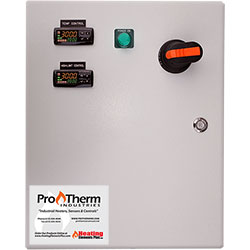 Our control panels and control systems are convenient, ready to connect packages that utilize temperature, power, multi-loop, process and related safety limit controllers in NEMA rated enclosures. Controller options include auto-tune, PID, on-off and percent power. Industry standard I/O options meet virtually all applications while enclosure NEMA ratings and agency approved temperature, limit and power controllers mean built-in reliability. Solid state power controllers are available in single-phase, and three-phase/two and three leg configurations with phase angle or burst fire switching.
For industrial and process heating, our controllers can handle multiple zones, temperature settings and sensors.
We can provide a control system for any electric process heating application. Standard and custom sized enclosures, along with standard and custom designed control operation, give us the flexibility to supply a wide range of control panels to complete the heated hose control system.
From a simple temperature controller, to an entire manufacturing facility, we can design and build a control panel for you.
Control Panels We Offer:
Temperature Control Panels
Power Distribution Panels
SSR Power Control Panels
Portable Controllers
Variable Power Controllers